Over the Past Year, Evolutionary Changes haveTaken Place in a Number of Areas of Armenia's Healthcare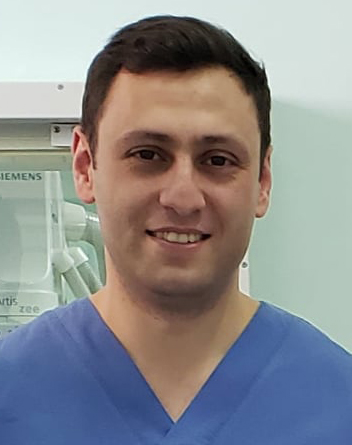 David Sahakyan, Head of Cerebrovascular Neurosurgery Service, Erebuni Medical Center
- How do you assess the state of healthcare in the country? Can you, please, describe the recent achievements of healthcare in the country? How effective is communication and collaboration with the medical organizations of other countries and the WHO?
The state of healthcare in Armenia is, in principle, satisfactory. Although, of course, there are many aspects which we still need to be addressed. The majority of the problems in our field, in principle, are being solved at the moment, but there are a lot of areas requiring financial investments and young specialists.
The distribution of specialists is disproportional which results in an insufficient number of specialists in the regions. As a result, the centers built in the regions that are equipped with state-of-the-art devices are not able to fully ensure the provision of quality medical services to the population in the regions, and the latter have to come to the medical centers in Yerevan.
Among the strengths, I would like to highlight the large number of quite highly qualified specialists, along with direct communication and cooperation with a large number of foreign experts. I also see a rather intensive trend towards improving the quality of healthcare in Armenia as a whole. The new leadership of the Ministry of Healthcare demonstrates great interest in the development of the healthcare system. Efforts are being made to improve the quality of healthcare in our country. The weaknessconsists in the rather outdated healthcare system. There is no unified database of patients, i.e. electronic records. As a result, the whole system is still working in the old manner, while medicine today is globally developing after the western scenario.
In the recent years, great steps have been made and are still underway to upgrade medical equipment. Nevertheless, today there are important areas of medicine, where there is a shortage of medical equipment and technology. I have to highlight the evolutionary changes over the past year in a number of areas of healthcare. As an example, I will cite the program for the treatment of acute ischemic stroke, launched this year. As one of the developers and actors of this program, I can point to its colossal results - a large number of patients enjoyed treatment by the latest methods. This treatment is quite expensive, but in the end it pays off completely, because thanks to it, the number of people with disabilities and mortality among the population are significantly reduced. Only in the past 5 months, about 160 patients who would otherwise either die or end up with a disability were cured due to our program. This is a very good result, especially in comparison with other CIS countries. There are also significant achievements in a number of areas: in the treatment of cardiological and oncological diseases. Considering that the main course has been taken correctly, I believe in the great future awaiting us: today we are moving forward with quite large steps.
As for cooperation, it primarily takes place with our compatriots from the Diaspora: in the United States, France, and Canada. Their contribution to the development of our healthcare system is invaluable. Their contribution comes in the form of counselling and material assistance, they finance the construction of hospitals the procurement of the latest equipment, etc. Quite recently, a large conference of Armenian doctors from around the world took place in Yerevan, and in our work we are in constant contact with foreign colleagues.
- Which segments of the population use free medical services, are these services of justifiable quality? Where do citizens most often go for treatment and mainly for what reasons?
In our country, in principle, the entire population is covered by basic and free medical care. But unfortunately, there are types of medical assistance and surgeries, which are not covered by the state. We also have a problem with health insurance by private companies, which, in turn, is due to the lack of a unified patients' database. The development of universal medical insurance in our country will become possible only after the emergence of such a unified database, which will help to avert possible frauds by dishonest health workers and medical institutions. And there are some activities underway in this direction, too. It seems to me that in the near future upon the completion of activities for the creation of the database, mandatory health insurance will be introduced, which will significantly improve the provision of medical services in Armenia.
Our citizens leave for Russia and Europe to get treatment, some leave for Israel and the United States due to the lack of treatment of certain diseases in Armenia. Most often this applies to rare diseases. Many travel abroad to diagnose and treat oncological diseases.
- Are there any statistics on which diseases are the most common ones among the population today? Why do you think people go to doctors mostly only if they have acute health problems? Is it because of insufficiency or lack of funds, specificity of mentality or something else?
According to statistics, cardiovascular and cerebrovascular problems are the main cause of death in Armenia, as in all countries of the world. Every third patient in Armenia dies from cardiovascular diseases. That is why active work is being implemented in this direction. The heart treatment program has been developing in Armenia since 2014, and today we already trace good results in the treatment of acute myocardial infarction. Starting this year, we have intensively started treating acute ischemic stroke. Meanwhile, we have big problems with primary medical care in polyclinics as well as need to raise the awareness and educate the population. I personally come across a large number of patients with problems that should have been resolved long ago at the polyclinic level. For example, the number of people with uncontrolled hypertension is very large. Many people simply do not know that as a result of long-term uncontrolled blood pressure both large and small vessels get damaged. Often, hypertension has no symptoms and people either do not see the doctor, or, even worse, go to the doctor, but the drugs prescribed to them are not taken due to the argument that "they feel well anyway." These people cause damage to their blood vessels and after a few years they end up with strokes and heart attacks. The same goes for diabetes and smoking. People in Armenia simply do not pay regular visits to doctors, for prophylaxis, say, at least once a year. This leads to a large number of strokes, heart attacks, and cancer. We mainly detect late-stage tumors. This is our most complicated problem, that goes unnoticed at first sight and which is very difficult to solve. Accordingly, people constantly need to be reminded of the need to regularly consult doctors for prophylaxis.
- What urgent measures are needed to improve the healthcare system?
I think we primarily need to start with educating the population and raising awareness about the health sector. It is also necessary to consistently improve the primary medical care and periodic health examinations. The more the very media speak about issues in medicine, the more people will pay attention to their own health in a timely manner. Over the past year, we have seen enhanced activity in this direction, and proper work is already underway; general public awareness is growing. Today, people mostly come to us already with some idea about their illness. Accordingly, if the Internet and "Doctor-Google" are somehow disruptive to our actions at the stage of treatment, they also help us to some extent, since people come to us with already some information and data.
And, of course, it is necessary to continue investments in those areas of medicine in which Armenia is still seriously lagging behind. It is also necessary to further develop ties with international organizations, with our diaspora, since the potential for development is truly enormous. It is necessary to do everything so that our compatriots not only consult us as specialists, but also return to their homeland. The long-term lack of a proper healthcare system has unfortunately led to the outflow of good specialists from Armenia. These specialists are certainly very well received in developed countries, and they very quickly make their ways up there. There are enough Armenian surnames in top medical positions in Russia, the USA, and in Europe. And, unfortunately, these very areas of medicine where they occupy top positions are underdeveloped in Armenia. But I assume we have good potential and prospects for the repatriation of our specialists to their homeland.
Cooperation between the EU and EaP States 10 Years Later: What Lies Ahead?
The "enemy's image" in Armenian and Azerbaijani societies
Russia and the South Caucasus: Agendas, Priorities and Realities-2019
Pages